Simple, Versatile, Rugged – meet the Sontex Supercal 5.
28 September 2021
The moment has arrived where we can finally introduce you to the latest addition to our meter range, drum roll, please! The Supercal 5 has been a highly anticipated product launch, we are especially excited about this as we have the honour of introducing it to the UK! So, without further ado here we go!

The Supercal 5 incorporates state-of-the-art technology, this next generation calculator boasts many future proof features, all set within a user-friendly interface. Features include configuration via NFC interface, modular concept with 2 card slots, several tariffs and… LoRaWAN*! It can also be supplied with Wireless M-Bus for data transfer.
The Supercal 5 succeeds the highly successful and respected Supercal 531, the new series integrator is characterised by the latest multi-functional technologies, it meets customer-specific needs such as a simplified system integration, tariff and data logger functions, universal data transfer and connection to system processors. The Supercal 5 is future-ready, it has been designed with the future in mind, combining the latest technology to create a modern heating and cooling meter that will serve a wider range of applications.
Its volume input can be combined with mechanical, magnetic-flow, ultrasonic or fluidic oscillators flow sensors. It has additional pulse inputs which allow the connection of hot or cold water, gas, oil, and electricity meters, any meter with a pulsed output. Thanks to its extensive range of options for data communication, as well as its flexibility for collecting and recording dynamic plant data, the Supercal 5 can also lend itself well to applications in district heating networks and industry installations.
The Supercal 5 is equipped with a battery as standard, other power supply modules are also available. The Supercal 5 is compatible with the full-size range of Superstatic 440 heat meters – DN15 to DN500.
What has changed? Let us take a look
Innovations
Ø Optimisation of the housing for easier installation
Ø NFC technology for simplified and user-friendly configuration using Superprog Android
Ø Large illuminated dot-matrix display (128×64) for improved navigation in poor lighting
Ø 2 LEDs indicate, in real-time, the status of the calculator.
Ø Fully customisable tariff and data logger functions
Ø Display menu position customizable by Superprog Windows Software
Ø Lifespan of 6+1 years without additional power supply module
Ø Expanded data storage for enhanced monitoring.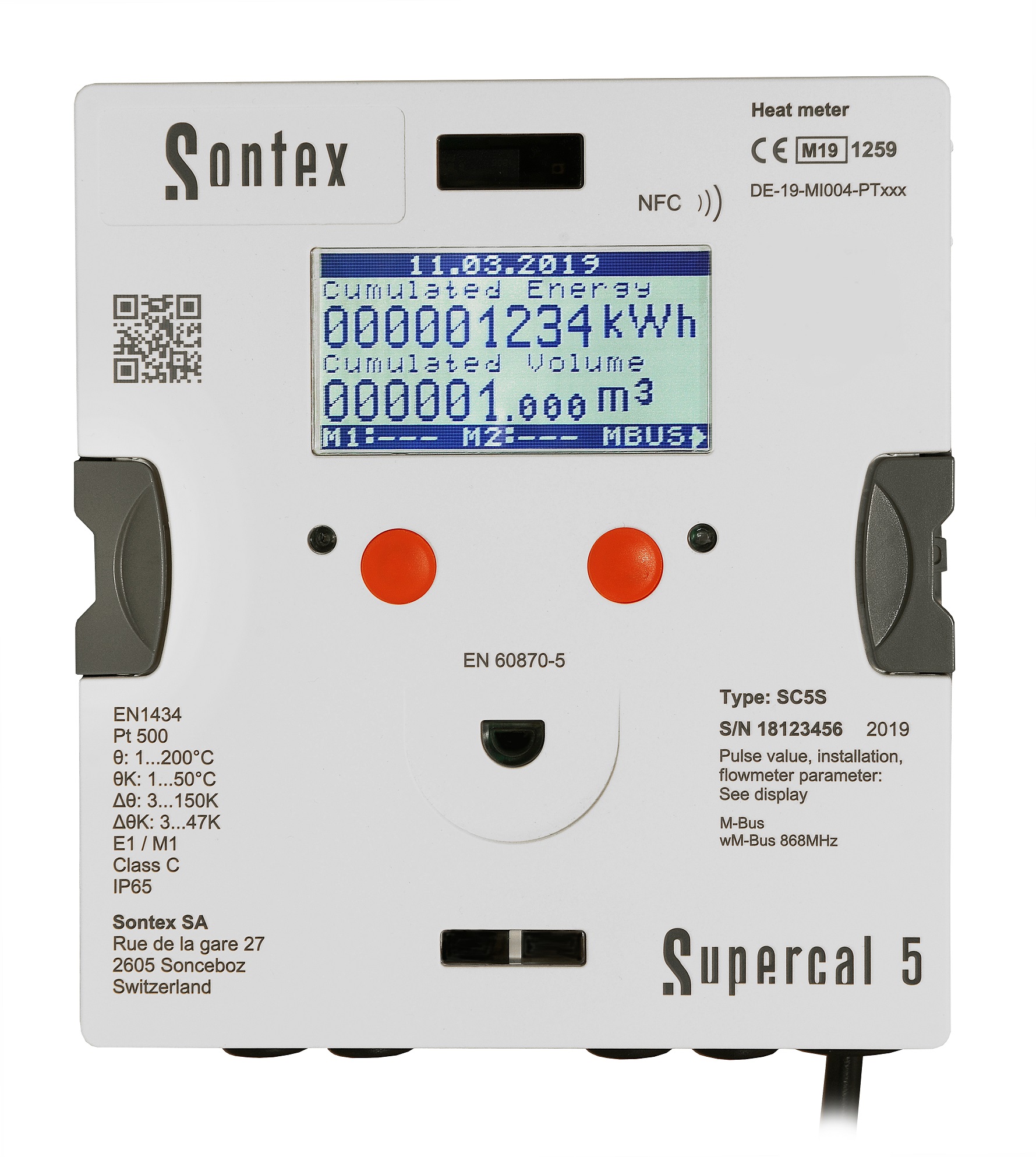 Features
Ø Calculator for heat meters, cooling meters or combined heat/cooling meters
Ø Battery or mains powered for increased flexibility
Ø Exchangeable upper part (MET) while wiring remains in place
Ø Modules can be retrofitted or replaced at any time without affecting the approval
Ø Self-recognition of optional modules
Ø Native M-Bus interface according to EN 1434-3
Ø Optical interface according to IEC 62056-21:2002
Ø 2- or 4-wire temperature sensors without any configuration
Ø 2 pulse/state inputs and 2 pulse/state open-drain outputs
Ø User-friendly menu navigation
Enquire today!
01773 534555 / www.dmsltd.com / meters@dmsltd.com
*LoRaWAN coming soon, please speak to our sales team for more information.
View the full gallery here: https://pin.it/6BnB9A1