National Grid Training Centre - Fuel Oil
29 March 2022
Case Study – Fuel Oil metering (boilers) - supply and installation.
National Grid Training Centre, Nottinghamshire, was not recording oil use for several years in terms of measuring time of use/quantity and seasonal variation for the purposes of energy efficiency and mandatory reporting.
Elemental were tasked to provide energy management and energy reporting services to National Grid. National Grid's Training Centre has a crucial role in providing expert training across the energy industry. From electricity overhead lines to virtual reality suites, the centre provides a comprehensive range of technical and leadership development programmes. The centre also manages the training for National Grid's Gas Transmission business through a specialist gas skills facility.
PA-Energy
were asked by Elemental to investigate the fuel oil metering requirement. A survey took place with the PA-Energy sub-contracted M&E site manager to look at the boilers and pipework and it was identified that there were two issues:
1. The boilers would require a temporary shut down
2. After fitting, purging of the oil lines would be required before re-firing up the burners
- Health and safety risks assessment and mitigations would be a primary concern.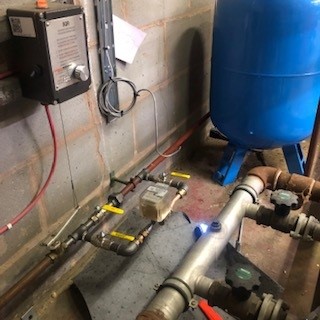 PA-Energy proposed fitting an oil meter that would cover the full range of expected flows rates 8 – 104 litres/hour that the 3 boilers would require based on a single, twin or triple duty running. The boilers are Riello NXR 3 x 2 271 kW heat each / hot water and NXR 2 hot water 60 kW each.
The meter data (pulse) was also connected to the Schneider BEMS module UMU-IC that will take in the oil consumption data and then make available to Elemental's consultants.
The work itself was performed by PA-Energy's oil fitters who were specialised in complex oil meter installations. The work itself was project managed by PA-Energy on behalf of Elemental Consulting Group.
Percy Albuquerque, director PA-Energy commented 'The fitting of oil meters must be undertaken by Oil Safety work registered contractors and the work must be properly planned, especially when fitting oil meters. This includes the meter selection, health and safety aspects, oil line isolation and awareness of emergency oil shut-off systems and spillage prevention as there was no bund in the vicinity of the works. The oil meter was provided by DMS Metering who carefully reviewed the flow specifications to assist in selection of the meter type and make/model.
The work was undertaken on a Friday when the training centre was not fully active.
www.pa-energy.co.uk PA-Energy install and maintain energy sub-meters for water, gas, electricity, oil and heat, including data collection loggers.
PA Energy also provide site survey, data analytics reporting services + expert independent technical consultancy.
These include on-site services to improve your energy and water management operations and resolve your metering problems. We get to know our clients and build a package that works for you.
How PA Energy solve your metering challenges?
+ Meter installation and maintenance
+ Remote energy data monitoring technology
+ Solutions to metering and energy billing issues
+ Expert independent technical consultancy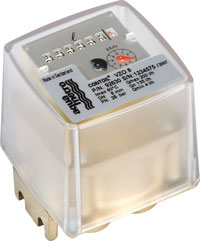 DMS Metering Solutions – selected by PA Energy.

DMS Metering Solutions are an independent supplier of metering and control solutions and were chosen to supply the Oil Meter for this project. The Oil Meter provided was the VZO Oil Meter by Aqua Metro
DMS principally operate within the Building Services, District Heating, Renewables, Utility and Distribution markets, with a proven track record for excellent customer service and support spanning over 20 years.
Centrally located near Nottingham, DMS support a Nationwide supply service, with a comprehensive customer capability that is second to none; including onsite technical support, training and commissioning. Our business ethos is to be selective in supplying only high quality, market-leading products and services; a number of which are exclusive to DMS within the UK.
PA-Energy's meter data platform is called PA-AMR ™ provided by sister company REDSTS and is hosted on the Microsoft SQL Server platform and soon on Microsoft Azzure. They also distribute data to the client's own BEMS (building energy management systems) and REDSTS True Visualiser web application FDM TM *** through Secure FTP.
*Elemental Consulting Group
**PA-AMR is a trade mark of REDSTS
*** FDM is provided by Fusion 242 our IOT partners who are AWS (Amazon Web Service accredited developers).
For more information or to discuss, please contact us via www.pa-energy.co.uk / www.dmsltd.com