Smart D+ Water Meter
19 October 2021
Smart D + is the next generation of the "Smart" series of single-jet dry water meters from Apator PoWogaz, featuring exceptional measurement accuracy, low water consumption and modern design. These new solutions have been designed to significantly increase the metrological and service life parameters. The water meter is interoperable with clip-on communication modules for automatic wired or wireless meter reading. The water meter design is MID Directive compliant and is classed as operating in the R200 measurement range.
Application
The Smart D+ water meter is suitable for cold water applications up to 50°C and can be used in single domestic settings or larger multi-occupancy housing and commercial properties.
The rotating counter facilitates water meter readings in the appropriate operating positions. Installation in horizontal pipelines with a top (H) or side (H) counter, and vertical pipelines with a side (V) counter.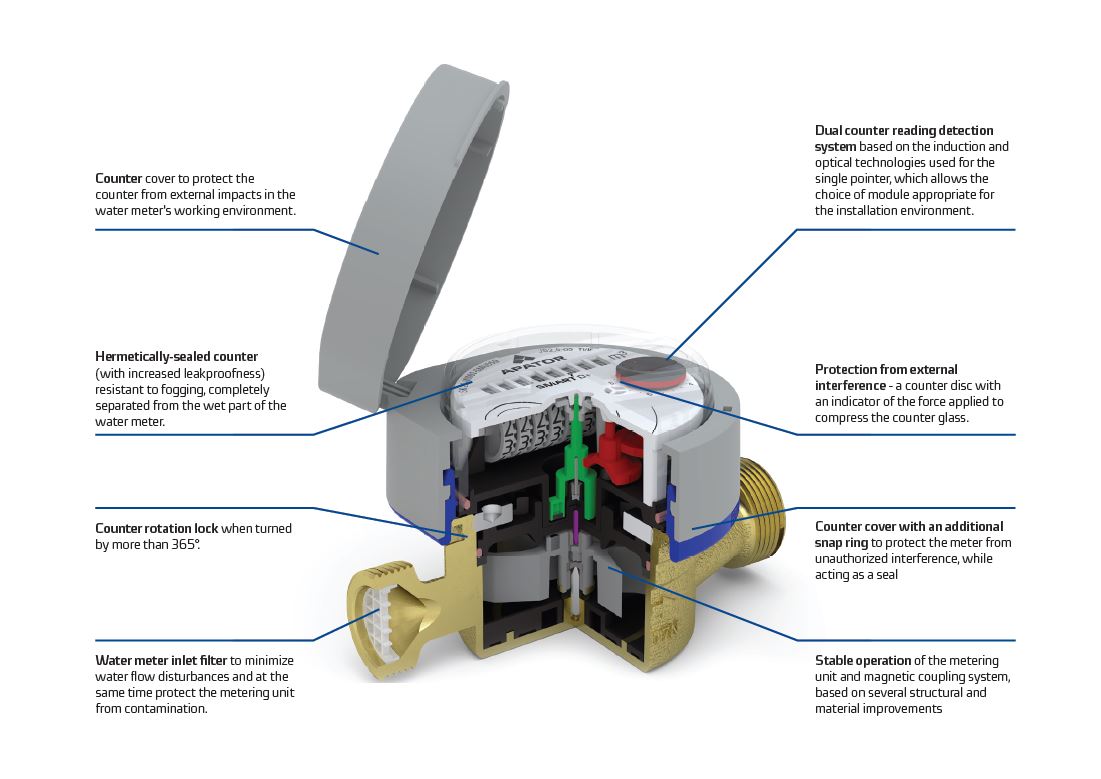 Advantages
Economy
· exact measurements in the R range: up to 200-H and up to 80-V
· low starting flow
· EN14154 compliant resistance to external magnetic fields
· no need for copper wire and lead seal (compliant with RoHS Directive recommendations)
· Convenience of use suitable for remote readings (radio, pulse, or M-Bus)
· hermetically sealed counter, resistant to fogging, with clear numbers on the barrels in two colours for improved reading accuracy
· alarm capability - meter with a communication module, capable of signalling removal of or damage to the module, disruption of operation, reverse flows, leakage, etc.
· convenient reading, with the option of the swivel-set counter-rotation of up to 365° relative to its axis
· modern and ergonomic design
· Low maintenance costs
Features
· MID-compliant EC-type examination certificate
· pre-equipped for AMR (optical and inductive) data communication modules
· two-point rotor bearings and other solutions and materials used to ensure stable metrology over the service life
· potable water approved certified materials
· protection against mechanical interference
Compliance
· Directive 2014/32 / EC of the European Parliament and of the Council of Europe of 26 February 2014 on the harmonisation of the laws of Member States related to the making available on the market of measuring instruments
· EN-ISO 4064-1÷5: 2014 (E) - Water meters for cold potable water and hot water
· OIML R49:2013 - Water meters intended for the metering of cold potable water and hot water
· Classification of environmental, climate and mechanical conditions: Class B (ref. EN-ISO 4064-1:2014 (E)
· Classification of mechanical environmental conditions - class M1, as per Directive 2014/32/EC of the European Parliament and of the Council of 26 February 2014
· Classification of electromagnetic environmental conditions - class E1, E2, as per EN-ISO 4064: 2014 and Directive 2014/32/EC of the European Parliament and of the Council of 26 February 2014
· PZH National Institute of Hygiene certificate (all materials used in JS water meters have Hygiene Certificates for use with potable water)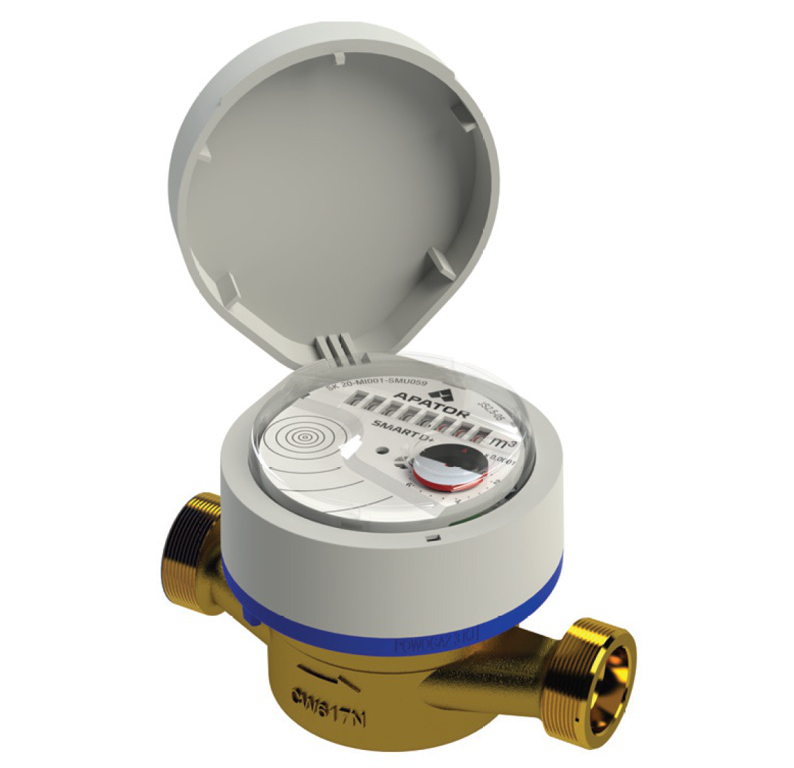 For further information on the Smart D+ Water Meter contact our team on 01773 534555 or email meters@dmsltd.com