Non-invasive metering – measuring what matters.
Badger Meter non-invasive meters provide a cost-effective way of measuring flow and energy, the reputable range includes the TFX-500W and the TFX-5000.
The benefits of using clamp-on meters have a lengthy list, but the top points are the ability to freely measure different points and locations with one device. Another point is the ease of installation, it is extremely quick and easy to set up – saving time and money. A huge selling point for these meters is that there is no need to cut or tap into the pipework, this can often be the biggest cost when installing and maintaining meters.
How do they work?
The TFX-5000 transit time ultrasonic ­flow meter measures volumetric ­flow and heating/cooling energy rates in clean liquids as well as those with small amounts of suspended solids or aeration, such as surface water or raw sewage. TFX-5000 fl­ow and energy meters clamp onto the outside of pipes and do not come into contact with the internal liquid.
By clamping onto the outside of pipes, the meters have inherent advantages over other ­flow meter technologies, including:
TFX-5000 Benefits
• Reduced installation time and cost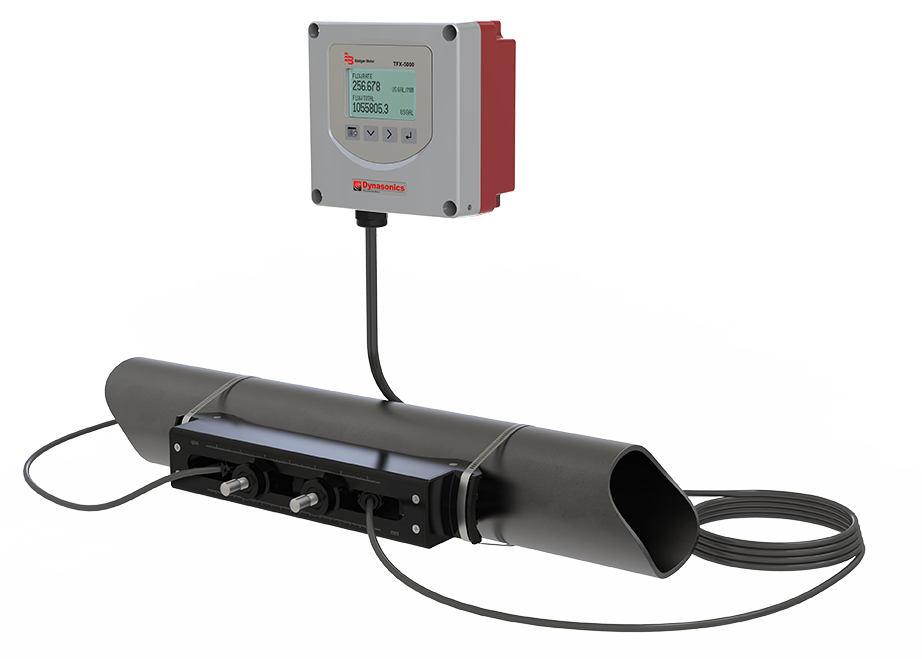 • Non-invasive, non-contact measurement
• Continued operation during installation—no need to shut down the process
• No pressure head loss
• No moving parts to maintain or replace
The TFX-500w transit time ultrasonic fl­ow meter measures volumetric ­ow of clean water in pipes 10" or smaller. By clamping on the outside of the pipe, the ultrasonic meter installs without cutting or tapping the pipe.
TFX-500W Benefits
• Installs without cutting into the pipe
• Eliminates the costs of inline ­flanges and pipe‑fittings
• No moving parts to maintain
• No pressure head loss
If you require a meter that can be moved as easily as it can be installed, that can adapt to locations as quickly as it can measure the flow that passes through you need a Badger non-invasive.