The perfect solution to meet the Metering & Billing Regulations 2020
17 January 2022
Heat networks account for only a small proportion of UK heating systems. As a result, their locations and operations were unrecorded and unregulated until 2014.
The purpose of the Governments Heat Network (Metering and Billing) Regulations, which came into force initially in 2014, is to drive energy efficiency and reduce carbon emissions from heating. This is achieved through the installation of metering and billing devices based on consumption, which will reduce consumer bills, decrease the use of energy and result in carbon emission savings. It also supports fair and transparent billing for customers on heat networks leading to the creation of the first database of UK heat networks.
This led to the creation of the first database of UK heat networks. Under the Regulations, the operators of heat networks must submit notifications for the heat networks they operate. They must where required, install metering devices on those networks. Operators whose networks are fitted with metering devices must meet ongoing obligations, including using these devices to bill customers based on their consumption of heating, cooling or hot water.
All heat network operators or organisations are required to comply with the regulations, should continue to notify every four years, including the additional information on building classes required after 1st September 2022. Suppliers with a new heat network must submit an initial notification to the office for Product Safety and Standards (OPSS) on or before the day it first supplies heating.
The amendments to the Regulations in 2020 introduce building classes that require some heat suppliers with unmetered networks to install metering devices in the buildings they serve. If heat meter, heat cost allocators, thermostatic radiator valves and hot water meter installation is required, you must complete the installation of all required devices by 1st September 2022.
Performing a weighing cost-effectiveness assessment of most existing buildings is a legal requirement to comply with government weighing and billing regulations 2020. Some clients have opted to install energy meters, while others use cost-effective tools to check compliance. In any case, DMS Metering Solutions have products that meet your requirements.
DMS Metering Solutions are working with Bristol-based Giacomini to offer the perfect solution to you. A user module that permits the direct metering of thermal energy for heating and air-conditioning, and of hot and cold sanitary water, in centralised production systems. It is a clean and compact brass bodied assembly that has everything you need to provide a solution to 2020 regulations. The typical supply and installation cost ensures it is cost-effectiveness tool friendly. The main advantages of this device gives the customer an energy bill that reflects real consumption, possible energy savings with the autonomous management of the individual home (temperature and operating times), greater safety with one person responsible for the system and the possibility for the individual inhabitant to check their consumption by directing reading the meter. For the designer/installer, a wide range of products are available for every system, all compliant with the governments Metering and Billing regulations 2020.
DMS offer advice and can supply the perfect meters and accessories to work with your chosen modules.
The features include
• Sontex MID Class 2 Heat Meter available with M-Bus, Wireless M-Bus or LoRaWAN
• 3 Port Valve for flushing
• Y-Strainer with Stainless Steel Basket
• Isolation Ball Valves including one specifically designed for the installation of the Flow Sensor
• Dimension for Installation 400mm x 200mm (Without Enclosure)
• 110mm Centers on flow to return pipework
• Nominal flow rate 1.5 m3/h
• Maximum working pressure 16bar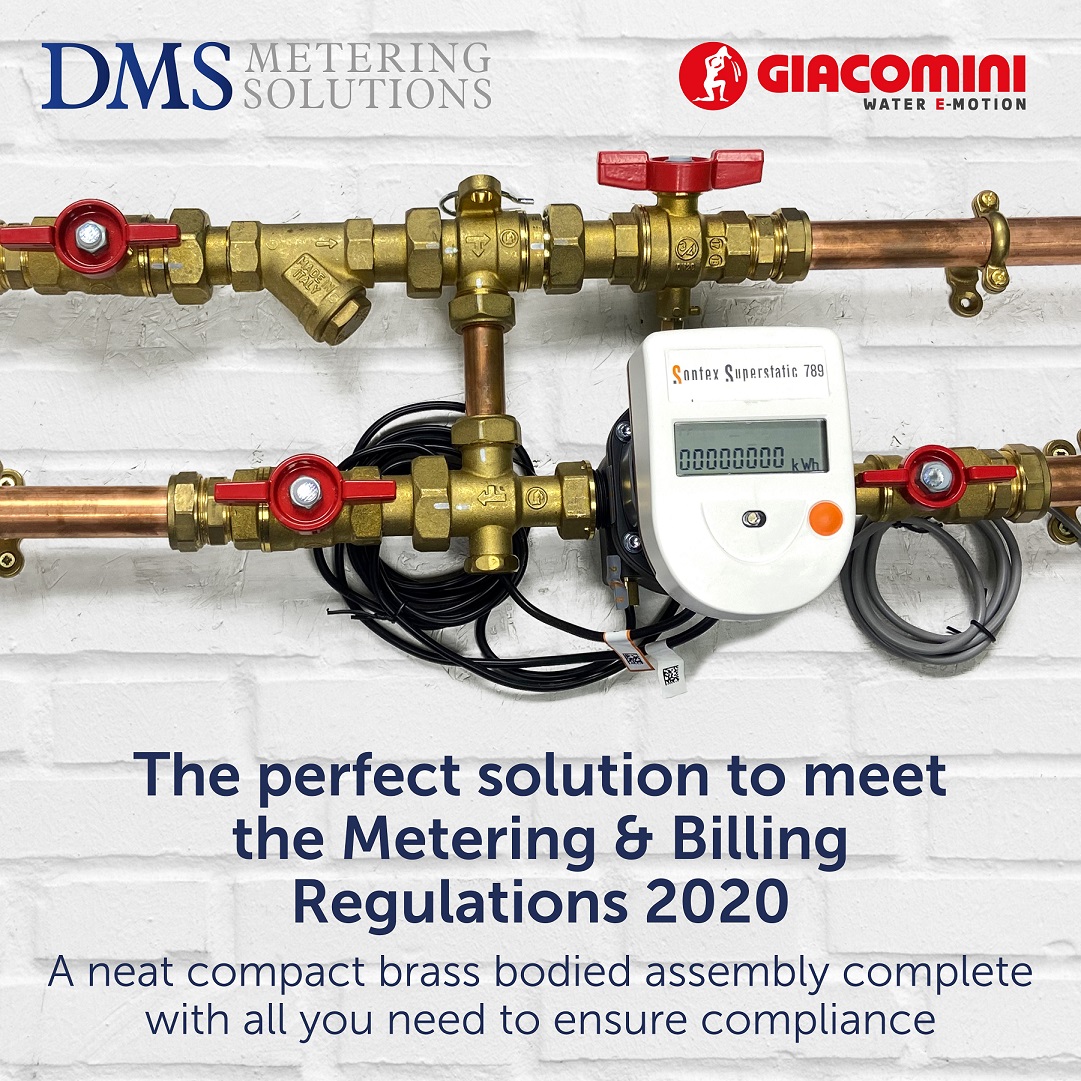 Options include:
• Brass bodied Heat Meter
• 1" Version of the complete assembly
• Motorized head for the 3-port valve
• White lockable enclosure
Please talk to a member of our technical team to discuss your requirements by calling 01773 534555 or emailing meters@dmsltd.com