Gas Installation Kits from DMS Metering.
24 March 2020
Unique, fully tailored and bespoke gas installation kits from DMS.
DMS supply unique gas kits that are tailored to your individual application needs. After a conversation with our experts, we can provide you with all the necessary items, including fittings, valves, inlets/outlets, and flexi hoses. Our bespoke gas kits are suitable for new build installations and existing applications. For new builds, we can supply caps, plugs, and blanks.
One of the biggest benefits of our kits are thanks to their ability to be tailor-made, saving you from having to spend money on items that you don't require, if you don't need it, you don't need to spend money on it! – saving you wasted time on-site and money!
Another benefit to our kits is the packaging that we supply them in, thought and experience has been injected into the way we send your kit, a common issue in the industry is the packaging not being the correct size/shape, causing the flexi hose to be misshapen. Our "super strong" packaging has been designed to allow the hose to remain its shape, arriving to you in its original form and not bent.
Here is an example of a typical DMS gas kit.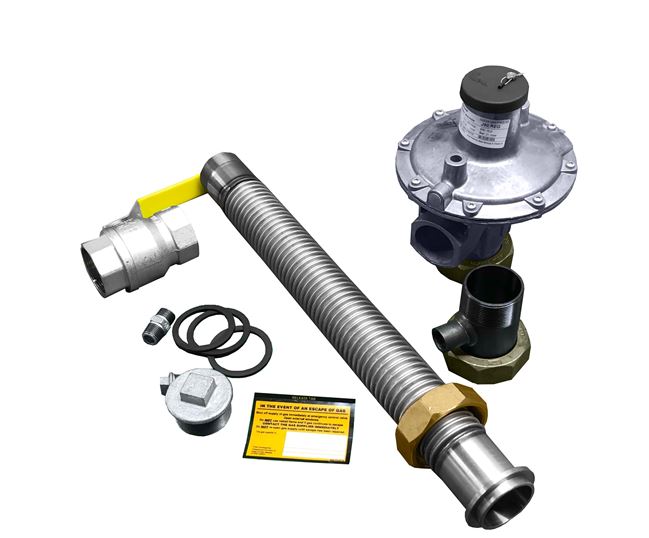 · Meter Outlet Union / Spool
· Gas Regulator
· Fastenings – Gaskets / Bolt Kits
· Flexi Hose
· Meter (optional)
· Meter Outlet Valve
To suit Diaphragm Meter sizes – U16/G10, U25/G16, U40/G25, U65/G40, U100/G65, U160/G100
Our Installation Kits are fully compliant with the requirements of IGEM/GM/6

DMS Metering Solutions kindly remind you that gas control equipment should only be fitted and maintained by a suitably trained/certified Engineer.