The Dresser Chatterbox-e Isolation Unit​
20 March 2018
Ensuring safety in the most hazardous of areas

The Dresser Chatterbox-e Isolation Unit is a vital piece of equipment for plant rooms with a high-risk environment.
The Chatterbox uses Opto-isolators to provide 4 isolated volt-free contacts from low-frequency pulses generated by gas meters or volume correctors installed in a hazardous area as standard. The Chatterbox can be installed without the use
of mains power, promising a 10-year battery life from just standard cells – two ½ AA lithium. Once installed the Isolation unit can be set up for use with up to 4 different channels by wiring the pulse cables into the internals of the aluminum-bodied chatterbox. Adding the Dresser Chatterbox-e to your gas application can increase reliability and reduce power consumption thanks to its opto-isolation technology.
So how does it work? The Chatterbox-e isolation unit does not require a corrector or meter setting, once the chatterbox-e receives a pulse, a 220ms isolated output pulse is generated. The unit operated from a self-contained power supply lasting in excess of 10 years, proving a wise choice for remote and rugged environments, without the need for an external power supply. It has two output glands as standard helping the installation when more than one system is to be connected to the Chatterbox-e. Channels can be easily selected via the switch. The unit consists of four independent circuits that transform high impedance pulses, or volt-free contact closures into isolated volt-free contact closures. One input can be connected to up to four isolated outputs circuits by using internal switches.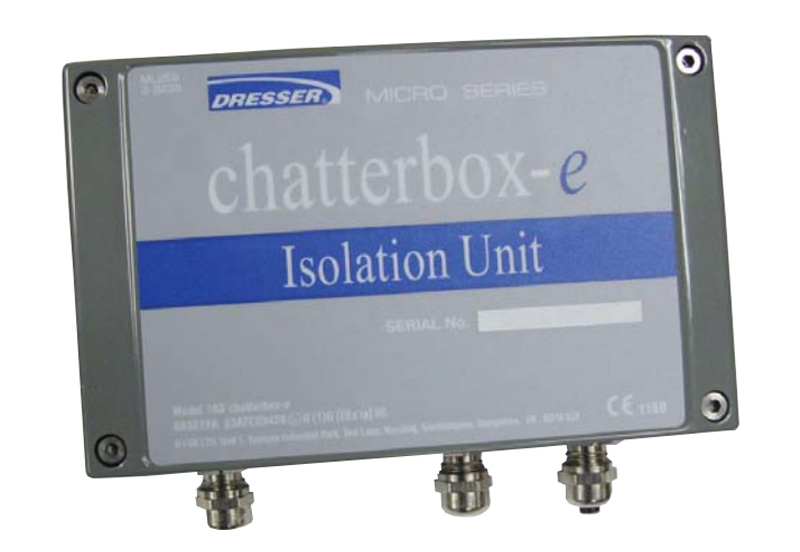 Accreditations: The Chatterbox-e gains brownie points for its ATEX Certified intrinsic safety and IP66 weatherproof cast aluminum housing, this unit is also compliant to the UK Institute of gas engineers editions 1&2.
Inputs: Each input is designed to interface with the current 'sinking' pulse outputs from the installed gas meter or volume correctors. The input will also interface directly with a volt-free contact closure, e.g. directly to a gas meter.
Outputs: Each output is a 220ms pulse, current sinking output capable of accepting up to 20V, 130mA
Important information! DMS always like to remind you that gas products should only be installed by a certified gas safety engineer and that the Chatterbox-e isolation unit should be installed in a safe area and can is suitable for connection to equipment in hazardous areas zone 0, 1, or 2
For more information please contact our dedicated team on 01773 534555 or email meters:dmsltd.com